Dear ITG,
I was at Sephora last night (primer emergency) and Tyra, a saleswoman there—not a voice in my head—let me in on a little secret. They've had this ~limited edition~ palette in from Hourglass for a little over a month, and it's selling like hotcakes. If hotcakes could ever glow in a "surreal light." Everyone wants this one, Tyra said, because it has "the perfect blush."
The Ambient Lighting Edit Surreal Light (lol) palette has a line-smoothing finishing powder, bronzer, two blushes, and a highlighter. It must be noted that the blushes and bronzers are swirly like the sand art you made at school festivals. Everything in the palette has this kind of mermaid tail shimmer, but it goes on more subtle, no chunks of glitter here.
We applied the blush (one glowy and lighter for the apples of the cheeks, the other with ramped-up pigment for closer to the temples) on my velvety hand (from all those primer samples), and damn, she's right. The peachy pinks hit that same prime zone that Nars' Orgasm is legendary for—skin tone be damned, it adds natural tint without prom night overkill.
Also: it comes in a marble-patterned case.
FAUX MARBLE, PEOPLE.
I MUST HAVE IT. OK, yes, Tyra was doing her job and she is very good at it. Me, when laying out my primer requirements: "I don't really need acne-treatment ones," Tyra: "Well, this one helps decrease pores…" Me: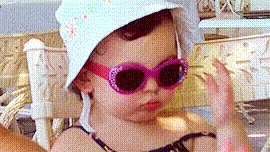 I resisted dropping $80 and made plans to ask Santa for it. Santa's the name of my accountant.
...Until I was in Sephora in Chicago, doing that thing kids do in front of toy store windows—ogling, sort of drooling. But I'm an adult with a credit card, unlike those pitiful pre-teens who have to ask their parents for permission in order to subscribe to Nickelodeon Magazine, so I decided to put a dent in my budget and get it. It's limited edition, I told Tyra (the voice in my head this time). She agreed: Even if that loose term is a genius marketing technique, life is short and at least this kind of impulse purchase doesn't require car insurance or monthly hair color maintenance.
When I asked Hourglass what limited edition means exactly, they said the number of palettes produced was in the tens of thousands, and when those sell out, that's it. I'll remind you that when their OG Ambient Lighting palette was released in 2013 at around the same time of year, it too sold out in weeks. Everyone freaked out, and now it's back permanently. So you can panic, or cross your fingers...
At the checkout line where my VIB points meant I could pick between three gift sets (I irrationally decided that none of these free gifts were "worth it" right now), I asked the cashier if the palette was popular. "Are you kidding? I'm surprised there were even any left out there," she said. Buyer's remorse: out the window.
XO,
Alex
Photographed by the author.
Product reviews on tap: Discover more of our favorite things with ITG <3s.